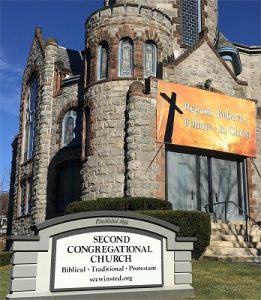 The Second Congregational Church of Winsted (Baptist & Congregational) of Winsted, CT is a traditional Protestant church which proclaims the Gospel of Christ crucified and teaches the Holy Scriptures.
Our Sunday Schedule:
9:00-9:50 AM = Sunday School for all ages
10:00-11:15 AM = Worship*
11:15 AM = Coffee Hour Fellowship
* In July & August there is only church at 9:30 AM.
* There is children's church for the littlest children during the service.
We encourage children, however, to stay in worship.
The worship service is broadcast on Charter Cable TV Channel 13 (Winsted area) on Sunday at 1:00 PM and Wednesday at 9:00 AM and on Cablevision Channel 5 (Torrington area) on Friday afternoon at 4:00 PM. For the sermons click here.
Office Hours:
Sun: 9:00 AM – 12:00 PM (Lord's Day Worship)
Mon: Closed
Tues-Thurs: 8:30 AM – 12:00 PM, 1:30 – 4:00 PM
Fri: 8:30 AM – 12:00 PM
Sat: Closed
To contact the church:
Phone: (860) 379-4766
Email: info@sccwinsted.org
Facebook: www.facebook.com/sccwinsted
Address: 800 Main St. (Route 44) in Winsted, CT 06098
---