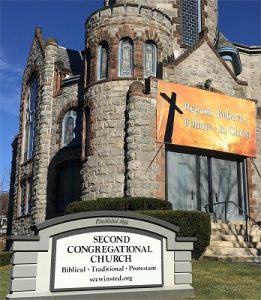 The Second Congregational Church of Winsted (Baptist & Congregational) of Winsted, CT is a traditional Protestant church which proclaims the Gospel of Christ crucified and teaches the Holy Scriptures.
Our Sunday Schedule:
10:00-11:15 AM = Worship*
* In July & August worship service at 9:30 AM (no Sunday school)
* There is children's church for the littlest children during the service. We encourage children, however, to stay in worship.
Office Hours:
Sun: 9:00 AM – 12:00 PM (Lord's Day Worship)
Mon: Closed
Tues-Thurs: 8:30 AM – 12:00 PM, 1:30 – 4:00 PM
Fri: 8:30 AM – 12:00 PM
Sat: Closed
To contact the church:
Phone: (860) 379-4766
Email: info@sccwinsted.org
Address: 800 Main St. (Route 44) in Winsted, CT 06098
Facebook: www.facebook.com/sccwinsted
Youtube: For live-stream services
Pastor Doug's youtube channel: Simply Reformed
Pastor Dan's apologetics page: Multimedia Apologetics

The worship service is broadcast on Charter Cable TV Channel 13 (Winsted area) on Sunday at 1:00 PM and Wednesday at 9:00 AM and on Cablevision Channel 5 (Torrington area) on Friday afternoon at 4:00 PM. For videos of previous worship services click here.