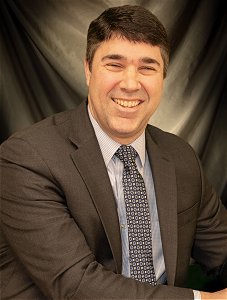 Christopher King has been organist at the Second Congregational Church since 2006, succeeding 20-year organist Roger Atkins. Christopher is only the fifth organist since the church moved to its current building in 1899. The current organ is a 1909 Roosevelt & Sons organ built in New York City with a modern three-manual console from Austin Organs in Hartford.
Previous positions held include Music Director of the Wesley United Methodist church in East Windsor, where the 1865 Johnson & Sons tracker organ underwent a historic restoration. Since moving to Winsted, he has become the organist for the annual Boar's Head Festival in Winsted, and is called on to accompany various choral groups.
Christopher is a full-time CPA in Winsted. His music education consists primarily of training from his grandmother, plus college-level courses taken while pursuing an accounting degree at Liberty University.
Christopher, his wife Emily, and their four children live in Winsted and they can generally be found on one of the area sports fields.